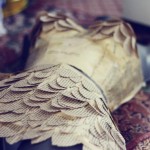 Bristol, the bank holidays are over until August and believe it or not, it's almost summer (kind of). Let's celebrate!
This weekend we will be mainly recovering from the four day week and waiting around to see if the weather can decide what it's doing- pub, anyone?
Seriously though, this week we're really keen for all you ale fanatics to get in touch: where are the best pubs in Bristol and why? We're very keen to gather everyone's opinions on this- we have our faves but it's important we know yours too! Anyway, here's what's up this weekend…
Friday:
Out of Print fashion show and Game of Thrones judging, where Maisie will be showcasing her own unique dress, a cartoon inspired creation from a young US designer, Ryan Jude Novelline, known as the Prince Charming of eco fashion.
Pretty cool. Full details here.
Alternatively, it's the 10th anniversary of Code of The Streets. For the last 9 years Code of the Streets has establish it self as one of Bristol's longest running clubbing night. Entertainment from : DJ STYLE – BROTHA NICK KEVIN REAL DEAL – DJ SUPERFLY. Special guest RAMPAGE Hosted by MC JNR Tickets £7:50
Saturday:
Why not head and see the Festival of Football Ideas event, a two week long Football, Literature, Art, Film and Music festival taking place in Bristol. Inviting artists, creatives, writers, academics and musicians to share their work, projects and innovations inspired by the beautiful game. We hope to see you there too. The Festival of Football Ideas is run entirely by volunteers, not-for-profit, just for the love of it.
(Images via Judy's Vintage Fair)
Sunday:
Of course, it is a Park on Park Street day! This is the day that Park Street will turn into it's very own Pop- Up event. There's set to be all sorts there and we're loving the attention Park Street is getting at the moment- let's hope the weather can hold out.
Vintage clothing sales- we're all ears. Opens at 11am, £3 earlty bird entry. You simply select whatever you like, take it to the weigh station and pay at £15 per kilo – that's around 4 – 5 items! At the Paintworks on Bath Road.
Economical, affordable, fashionable. (And convenient: they accept cash & card).
That's the weekend sorted. Have a good one! xxx