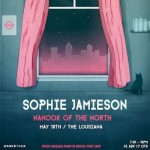 We're pretty much there, it's almost the weekend. And for the majority, haven't we have some lovely weather? Great climes are also forecast for the weekend, which means perfect weather for visiting our beautiful Bristol Lido or taking a drive out to the countryside or Weston Bay, I just love the countryside in the summer. Otherwise, I guess we don't do too badly in the city, do we? Plenty of happenings this weekend.
Friday:
The babes over at The Crofters Rights are hosting a beer festival, how nice of them- and it's all in aid of Celebrating 30 years of Brewers Droop on Gloucester Road. I'm in! IT's a three day spectacular of Beers, Brewing and Live Music, with food from Bristol Eats Street Food Collective, CHOMP Burger and The Crofters Roasts. They'll also be showcasing fantastic local breweries with opportunities to try them all, in addition to a Q&A presented by the team from Brewers Droop. Drink delicious beer, eat delicious food, maybe have a disco.
Other stuff that isn't- or doesn't have to be- alcohol related is:
Minke Whales at Start The Bus:
Organised by Bristol Live Magazine and described as "Stomping, twisted and folk-driven, with unmistakable guy-girl lead vocals", it promises to be a fun-filled night. Great little indie bar and pretty excellent diner food. Win, win. Details here.
20th Century Boy at Bristol Hippodrome:
This brand new musical, inspired by the life of rock legend Marc Bolan, explodes onto stage nearly 40 years after the star's tragic death. Featuring some of the greatest pop songs ever written, 20th Century Boy tells the story of Marc Bolan and his band T Rex, exposing some of the myths and taking the audience on a tearful yet joyful journey through Marc's fascinating life. Rocker, poet, electric warrior, king of glam and godfather of punk, Bolan was arguably the biggest rock star the Uk had ever seen. Before his tragic death in 1977, just days short of his 30th birthday, Bolan lived life at breakneck speed creating a series of iconic images, a string of number 1 hits, and an army of obsessive fans.
Saturday:
The obvious choice is Rave on Avon, which is a bit of a Stokes Croft tradition. A whole day of free music and partying unites all the best venues, bars and clubs in the Stokes Croft area for a celebration of the best of the city's music culture. Then, from 6pm one wristband will get to into all the participating venues; including Blue Mountain, Lakota, 51 Stokes Croft, Coroners Court and The Love Inn. Beautiful.
Sunday:
The talented Sophie Jamieson will be performing in The Louisiana basement for her first ever Bristol appearance. Support will be coming from Nanook of the North where they'll be treating us to a very rare stripped back set. £5-7.
That's your lot. Apologies for the shortness but brownie points for frugality, as they're all either moderately priced or free. Plus, it's set to be sunny- what more do you want?
Kisses xx